In my opinion, I think that the 3DS, unveiled during the Nintendo Press Conference, was the show-stopper of E3. So what was all the hype all about? Here's a quick summary of how the 3DS is a revolutionary step in gaming.
With the improvement of the screen size to 3.53 inches and with a resolution of 800x240, the 3DS boasts a high-definition screen providing super crisp graphics, with some saying that it was comparable to that of a home console. The new screen, made by Sharp, is said to be like two screen interlaced so that a slightly different image is projected to each eye. This is what gives the stereoscopic effect without the need for glasses. The widescreen is kind of made by two overlapped 400x240 screens. The bottom screen of the old DS was also increased to a resolution of 320x240. The 3D effect can be 'tuned' to any degree using a slider; so that you can turn it off if you want to.
With regard to its insides, the 3DS is said to have a more powerful processor, since it has to process a greater number of pixels (the 'double' display). It also has three cameras – one on the inside for portraits and the two other positioned on the front. These will enable users to take 3D photos and view them in 3D.
The addition of the analogue control stick also seemed positive as it allows games such as FPS to be controlled more easily. The 3DS also now has a home button, for easier movement to the home screen without restarting. It has also been given motion sensors and a gyro sensor. The stylus has been changed to an expandable one of up to 4 inches for a more comfortable experience.
In terms of wireless activity, it can communicate over 802.11 Wi-Fi and supports WPA and WPA2 protocols. When the console is in sleep mode, it can connect with other DS to swap information; or even connect to the internet to update score boards and rankings.
The 3DS has a single port which can be used for 3DS games and normal DS games, and a slot is also available for an SD card. Rumours are that games will be able to be installed onto the 3DS local memory so that cartridges won't have to be carried around, another convenience. As well as games, the 3DS can play full 3D movies including 'How to Train Your Dragon 3D'.
As well as all of these amazing new features, a HUGE host of games are in development for the system. These include Kid Icarus: Uprising, Mario Kart 3D, The Legend of Zelda: Ocarina of Time 3D, Metal Gear Solid: Snake Eater 3D, Kingdom Hearts, Final Fantasy, Paper Mario, Animal Crossing, Starfox 64 and Pilotwings...just to name a few.
Overall, I think that it's a great piece of hardware for gamers and offers a super-high quality and unique 3D experience without the need for glasses.
---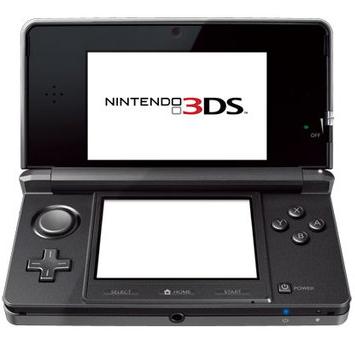 ---
Here are mine, what are your thoughts on the 3DS?
I'm thinkin that if the graphics could be significantly improved to that of an actual home console, and then placed in 3D without glasses, you'd really have something, but from the preview it shows the same PS2 quality graphics at best. It has potential to be good, but this doesn't come in the same league as the 3D quality of the PS3 as this has 1080p resolution being placed in 3D to produce an incredibly sharp image all in 3D. Yes at the cost of a pair of glasses, which tbf as they're polarized could branch into some sort of sunglasses thing too, just a thought, but this is such a small price to pay for the quality you'd be getting. Overall I think it's great, for a handheld console, but doesn't surpass that of the PS3 (but does beat the PSP as there's nothing new there)
Seasoned Member





Posts

: 220


Points

: 275


Reputation

: -3


Join date

: 2010-06-09


Age

: 24



In terms of graphics, a handheld can NEVER be compared with that of a home console, even the Wii, because of the much smaller size of handhelds. But that doesn't mean that they're no good. In the handheld market, I think it will beat its competition hands down.
therefore it cant have stole the show? yh it beats the handheld market, but if its not comparable to home systems then surely it can't have stole the show
Seasoned Member





Posts

: 220


Points

: 275


Reputation

: -3


Join date

: 2010-06-09


Age

: 24



What usually steals the shows is what shocks everyone at E3, what's revolutionary, what's new and creative. That is all of what the 3DS IS and that's why. Plus, just cus it doesn't beat home consoles graphically doesn't mean it doesn't in other ways...

---
Permissions in this forum:
You
cannot
reply to topics in this forum